About Us
McNelis Landscape Inc. is the premier landscaping business in Havertown, Pennsylvania. We are the region's preferred experts for commercial and residential landscaping needs. As a team, we are committed to making your outdoor area into a place of lasting beauty, utility, and sustainability.

Landscape planning, execution, and upkeep are all part of what we provide. We design individualized outdoor spaces considering each customer's specific wants and demands. Our knowledgeable staff is here to assist you in making the best possible plant, tree, and shrub selections for your outdoor area.


Hardscaping Services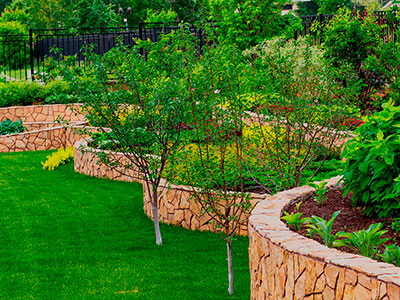 We are specialists in hardscaping and can build everything from retaining walls to pavers to outdoor kitchens. Our professionals will collaborate with you to design a relaxing and enjoyable outdoor environment within your price range. We can help you with any outdoor improvement project, such as building a patio, pathway, or fireplace.

Our team takes great pleasure in the quality of our plant and tree maintenance services. You can count on us to care for your trees and plants year-round. The trained arborists on our team will assess the state of your trees and provide the appropriate maintenance to keep them flourishing.

In addition to landscaping, we also provide water features, outdoor lighting, excavating, fencing, irrigation, and drainage. If you want to give your outdoor area a special touch, consider having one of our specialist design and install a water feature, such as a fountain, pond, or waterfall. Outdoor lighting is another service we provide to improve the look and security of your home.

We also provide snow removal services to ensure your safety and comfort during the winter. We also offer pool excavation services so that you can reclaim your yard for new use.

When you hire us, we can install fireplace veneers to make your outdoor area cozier and more attractive. We can build you a basketball court that will be the talk of the neighborhood and give you and your friends hours of amusement. We are committed to providing our clients with the highest service and quality. We use only the best materials and equipment, and our team of professionals is highly trained and experienced.


Professional Landscapers
Our experts create the best experiences for our clients, taking the time to understand their needs before recommending the best installations and features. Our company has proven expertise in all aspects of landscaping and hardscaping. We take up turnkey projects and yard and landscape renovation and upgrade works.

Our years of experience in the landscaping and hardscaping sector have enabled us to acquire the skills and knowledge necessary to complete projects of varying scopes and levels of difficulty, from complete turnkey installations to renovation and upgrade services. From the first consultation to the final installation and maintenance, we want to simplify the process for our customers.

To that end, we work hard to provide services above and above what is expected in our field. McNelis Landscape Inc. can handle all your landscaping, hardscaping, and other outdoor project requirements, from design to installation to upkeep.